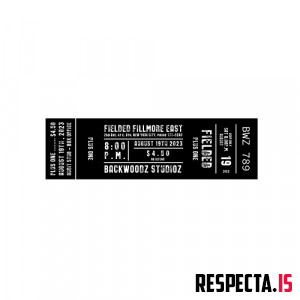 Name: Fielded - Plus One
Genre: Hip-Hop | Indie R&B
Year: 2023
Label: Backwoodz Studioz
Featuring: Billy Woods, PremRock, Fatboi Sharif, Elucid, They Hate Change, A. Billi Free, Fat Tony, Felicia Douglass, Teether, Pink Navel, Wolf Weston
Producers: Locust, Kenny Segal, Child Actor, Fines Double, DJ Haram, The Lasso, Elucid, Fines Double, Steel Tipped Dove
Format: mp3 | 320 kbps
Duration: 00:41:38
Size: 95 Mb
Description: New album from Brooklyn-based artist Lindsay Powell aka Fielded. While Fielded has put out several solo projects steeped in their trademark psychedelic R&B, she also has quietly built a reputation as a genre-bending vocalist and sought-after musical collaborator

Tracklist:
[03:47] 01. Windbreaker feat. Billy Woods
[03:45] 02. Afternoon Sun feat. Felicia Douglass
[02:57] 03. Take Me There feat. Teether
[03:04] 04. You Chasing Me
[03:25] 05. The Way It Is feat. Pink Navel
[03:08] 06. I Saw You feat. PremRock
[01:50] 07. Honeysuckle feat. Fatboi Sharif
[00:44] 08. Dream Interlude
[03:31] 09. Goddess Woes feat. Wolf Weston
[03:51] 10. Waves feat. Elucid
[03:27] 11. Freakyextendooooo feat. They Hate Change
[02:54] 12. Move It Like feat. A. Billi Free
[02:41] 13. Where I Came From feat. Fat Tony
[02:28] 14. Worlds Away feat. Billy Woods

Download Fielded - Plus One :

Turbobit


Warning! You are not allowed to view this text.