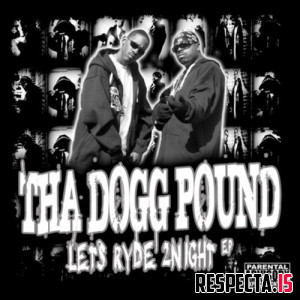 Name: Tha Dogg Pound - Lets Ryde 2Night EP
Genre: Rap | West Coast Hip-Hop
Year: 2008
Label: Dogg Pound Online / Fontana
Group Members: Kurupt & Daz Dillinger
Featuring: B-Real, Nate Dogg, Busta Rhymes, Snoop Dogg, San Quinn, The Yee, Nitti
Producers: Daz Dillinger, The Alchemist, Shawty Redd
Format: mp3 | 320 kbps
Duration: 00:49:29
Size: 113 Mb
Description: EP was released online after Tha Dogg Pound's deal with Cash Money Records was postponed. The featured single "Ch-Ching" was intended for their 100 Wayz album, but was released on Let's Ryde 2Night along with several other new songs as well as a few unreleased Dogg Pound tracks that were originally recorded for Cali Iz Active / 15th Anniversary

Tracklist:
[03:57] 01. Lets Ryde 2 Night
[04:57] 02. Ch-Ching
[03:57] 03. Look Like U Need a Lift feat. B-Real & Nate Dogg
[04:11] 04. Cuz from Tha Dogg Pound
[03:15] 05. Bacc on Tha Rise
[04:03] 06. Watch Us Ryde
[04:14] 07. Thiz DPG feat. Nitti
[03:46] 08. What Cha Want feat. Busta Rhymes
[04:01] 09. F.Y.T. feat. San Quinn & The Yee
[04:20] 10. Oooh Baby
[03:29] 11. Vibe Wit a Pimp (Shawty Redd Remix)
[05:16] 12. Xmas Seasons feat. Nate Dogg & Snoop Dogg

Download Tha Dogg Pound - Lets Ryde 2Night EP :

Turbobit


Warning! You are not allowed to view this text.