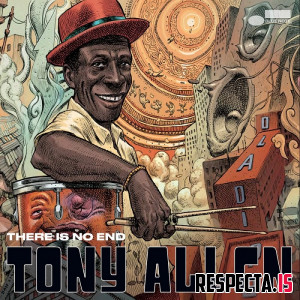 Name: Tony Allen - There Is No End
Genre: Jazz
Year: 2021
Label: Universal Music Division Decca Records France
Featuring: Skepta, Danny Brown, Sampa the Great, Lord Jah-Monte Ogbon, Tsunami, Nah Eeto, ZelooperZ, Koreatown Oddity, Lava La Rue, Jeremiah Jae, Nate Bone, Marlowe, Ben Okri
Producers: Damon Albarn, Eric Trosset, Remi Kabaka Jr., Tony Allen, Vincent Taurelle & V. Taeger
Format: mp3 | 320 kbps
Duration: 00:42:46
Size: 98 Mb
Description: New / Tony Oladipo Allen (Lagos, Nigeria, 1940 - Paris, France, April 30, 2020) was a legendary Nigerian drummer, composer, and songwriter. Tony Allen together with Fela Kuti pioneered the Afrobeat musical genre; they recorded music together from the 1960s with the Africa '70 band until 1979

Tracklist:
[00:29] 01. Tony's Praeludium
[02:31] 02. Stumbling Down feat. Sampa the Great
[03:17] 03. Crushed Grapes feat. Lord Jah-Monte Ogbon
[03:23] 04. Très magnifique feat. Tsunami
[03:09] 05. Mau Mau feat. Nah Eeto
[03:08] 06. Coonta Kinte feat. ZelooperZ
[04:19] 07. Rich Black feat. Koreatown Oddity
[03:20] 08. One Inna Million feat. Lava La Rue
[03:04] 09. Gang On Holiday (Em I Go We?) feat. Jeremiah Jae
[04:03] 10. Deer In Headlights feat. Danny Brown
[02:59] 11. Hurt Your Soul feat. Nate Bone
[03:46] 12. My Own feat. Marlowe
[04:44] 13. Cosmosis feat. Ben Okri & Skepta
[00:28] 14. There's No End

Download Tony Allen - There Is No End :

Turbobit


Warning! You are not allowed to view this text.