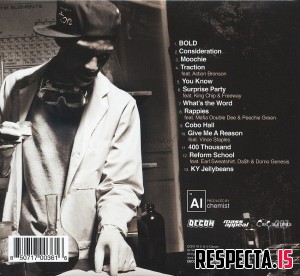 Name: Boldy James & The Alchemist - My 1st Chemistry Set
Genre: Rap | Hip-Hop
Year: 2013
Label: Decon Records / Mass Appeal Records, LLC.
Featuring: Action Bronson, Domo Genesis (Odd Future), Earl Sweatshirt (Odd Future), Freeway, Vince Staples, King Chip, Mafia Double Dee, Peechie Green, Da$h
Producer: The Alchemist
Format: mp3 | 320 kbps
Duration: 01:40:11
Size: 229 Mb
Description: Debut Album / Album + Instrumentals



Detroit holdout Boldy James presents My 1st Chemistry Set [M.1.C.S.], his first longplayer and fully collaborative project with LA superproducer The Alchemist, due October 15th on Decon, the label heavily involved in newly relaunched media hub Mass Appeal. Boldy isn't one to flex his vocabulary or quick tongue, instead instilling weight by deadending each stark stanza. Lack of excess characterizes Boldy's lyrical style and content, and it's crossapplicable to Alchemist's spare, steely beats. The LA producer's catalog boasts placements with the biggest rappers in the world (Rick Ross, Eminem, Nas, Snoop Dogg, too many others to count) as well as a laundry list of the most bubbling rappers currently (Domo Genesis, Action Bronson, Freddie Gibbs, Curren$y). On M.1.C.S. Alchemist thrives on forgotten '80s synth lines as well as epic string arrangements and raw drums, the product the two deliver here is one born of utilitarian precision. It's lightning in a bottle with these cooks in the kitchen, and fans across the country will get to experience the chemistry this fall as both Boldy and Al join the legendary Mobb Deep on a string of US tour dates for the group's twenty year reunion this fall.



Tracklist:

CD 1: Album

[03:13] 01. Bold
[03:01] 02. Consideration
[03:30] 03. Moochie
[03:46] 04. Traction feat. Action Bronson
[04:46] 05. You Know
[04:20] 06. Surprise Party feat. King Chip & Freeway
[04:22] 07. What's The Word
[04:18] 08. Rappies feat. Peechie Green & Mafia Double Dee
[03:21] 09. Cobo Hall
[04:12] 10. Give Me a Reason feat. Vince Staples
[03:37] 11. 400 Thousand
[04:01] 12. Reform School feat. Earl Sweatshirt, Da$h & Domo Genesis
[03:32] 13. KY Jellybeans

CD 2: Instrumentals Prod. by The Alchemist

Download Boldy James & The Alchemist - My 1st Chemistry Set (2CD) :

Turbobit


Warning! You are not allowed to view this text.