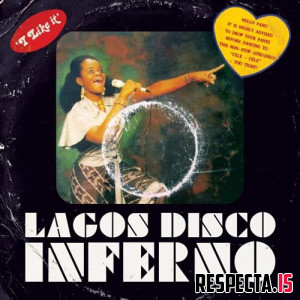 Name: VA - Lagos Disco Inferno
Genre: Funk, Afroboogie, Disco
Release Date: 2010
Label: Academy LPs, Voodoo Funk
Featuring: Doris Ebong, Geraldo Pino, Grotto, Pogo Ltd, Asiko Rock Group, Paradise Stars, Emma Dorgu, MFB, Christy Essien, Tirogo, BLO, Nana Love
Format: mp3 | FLAC
Quality:

320 kbps

| Lossless
Size: 163 mb | 452 mb
Duration: 01:10:19
Description: 12 smokin' rarities from Nigeria, dating from 1976 to 1982, compiled by Frank Gossner (aka DJ Franc O, Soulpusher) of Voodoo Funk fame. Surprisingly familiar, yet intriguingly unknown, these tracks sound just as fresh today as they did 30 or more years ago. 12 tracks rife with horns, moog and bells and whistles to keep you up all night.