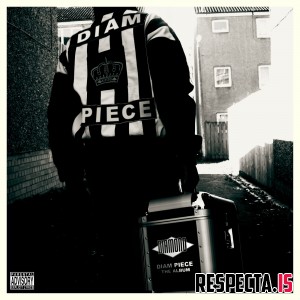 Name: Diamond D - The Diam Piece
Genre: Rap | Hip-Hop
Year: 2014
Label: Dymond Mine Records LLC
Featuring: A.G. (of D.I.T.C.); Black Rob; Boog Brown; Chi Ali; Chino XL; Elzhi; Fat Joe; Freddie Foxxx (aka Bumpy Knuckles); Grand Daddy I.U.; Guilty Simpson; Hi-Tek (of Reflection Eternal); Kev Brown; Kurput (of Tha Dogg Pound); Masta Ace; Nottz; Pete Rock; Pharoahe Monch (of Organized Konfusion); Rapsody; Ras Kass; Scram Jones; Skyzoo; Stacy Epps; Step Brothers (Alchemist + Evidence of Dilated Peoples); Talib Kweli (of Black Star + Reflection Eternal); Tha Alkaholiks; The Pharcyde
Producers: Diamond D, DJ Scratch (19)
Format: mp3 | 320 kbps
Duration: 00:00:59:19
Size: 136 Mb
Description: Fifth studio album



Grammy award-winning, legendary producer Diamond D of the historical Diggin' In the Crates (D.I.T.C.) collective returns with a brand new, star-studded compilation titled "The Diam Piece". "The Diam Piece" features the likes of Pete Rock, Talib Kweli, Skyzoo, Rapsody, Hi-Tek, A.G., FAT JOE, Alchemist, Pharaohe Monch, Black Rob, ELZHI, Kurupt, Ras Kass, Scram Jones, Guilty Simpson, Tha Alkaholiks, Nottz and more. This is Diamond's first production compilation album and is produced entirely by himself, except for the bonus track "Superman" produced by DJ Scratch. The album is being released on Dymond Mine Records and is full of the classic productions for which he is best known.

"I wanted to make a classic sounding project with some of my favorite iconic and new MC's... I call it "Brand New Retro" in this age of keyboard synth beats and dumbed down lyricism." Says Diamond on the new album.

No watered-down Hip Hop, just the MPC 3000, The Yamaha Motif ES8, an intricate selection of samples and the mic skills.



Tracklist:
[03:00] 01. Rap Life (feat. Pharoahe Monch)
[04:00] 02. Where's The Love (feat. Talib Kweli, Elzhi & Skyzoo)
[03:11] 03. Its Nothin (feat. Fat Joe, Chi Ali & Freddie Foxxx)
[02:36] 04. Only Way 2 Go (feat. Pete Rock)
[03:13] 05. Hard Days (feat. The Pharcyde)
[02:37] 06. I Aint The One To Fuc Wit (feat. Scram Jones)
[03:54] 07. Pump Ya Brakes (feat. Rapsody, Boog Brown & Stacy Epps)
[03:40] 08. Take Em Off Da Map (feat. Black Rob)
[02:58] 09. We Are The People Of The World (feat. Kurupt & Tha Alkaholiks)
[03:15] 10. Jose Feliciano
[02:38] 11. Handz Up (feat. Hi-Tek)
[04:16] 12. Pain (feat. A.G. & Chino XL)
[02:31] 13. Vanity (feat. Nottz)
[02:04] 14. Its Magic (feat. Alchemist & Evidence)
[03:47] 15. The Game (feat. Grand Daddy I.U.)
[02:53] 16. Let The Music Talk (feat. Kev Brown)
[03:03] 17. Ace Of Diamonds (feat. Masta Ace)
[02:40] 18. 187 (feat. Guilty Simpson & Ras Kass)
[02:56] 19. Superman

Download Diamond D - The Diam Piece :

Turbobit


Warning! You are not allowed to view this text.