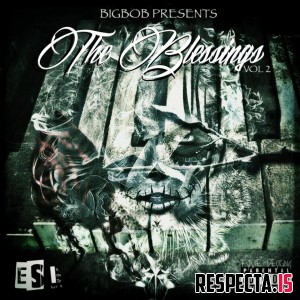 Name: VA - The Blessings Vol. 2 (BigBob Presents)
Genre: Rap | Hip-Hop
Year: 2018
Label: Robert Pattison / Elite Sound International
Featuring: Sadat X, Prince Po, Planet Asia, Craig G, Big Twins, Ruste Juxx, Illa Ghee, Milano Constantine, Skanks The Rap Martyr & Daddie Notch (of Bankai Fam), Mic Handz, Pacewon, Rap P, Dcypha, Nems, Grand Surgeon, Tony Gore
Producer: BigBob
Format: mp3 | 320 kbps
Duration: 00:56:05
Size: 128 Mb
Description: New



The Blessings Volume 2 is the follow up to the debut album of visionary music producer BigBob of indie label Elite Sound International. This evolutionary release pushes the buttons and elevates the current representation of hip hop. Sonically, BigBob doesn't disappoint. Unceasingly expressing his gratitude to hip hop, BigBob continues to experiment with classic sounds, boombap & golden era beats, refreshing contemporary sampling throughout and deliberate intense cuts & scratches lead into a well developed direction of musical harmony. This ambitious project demonstrates BigBob's ability to relentlessly attract legendary artists as well as the underground outliers with a proficient craft for brilliant lyricism. BigBob's musical confidence allows his experimentation to include a myriad of talented artists including vocalists, musicians and turntablists to complete this industrious studio project



Tracklist:
[03:26] 01. Sadat X, Big Twins & Dcypha - The Truth
[02:46] 02. Nems, Tony Gore & Dcypha - Put Ya Guns Down
[03:38] 03. Grand Surgeon & Nubis - Believe
[04:23] 04. Pacewon, Rap P, Tony Gore & Dcypha - Humanism
[04:05] 05. Big Twins, Mic Handz & Fame - Fuck 'Em All
[03:00] 06. Prince Po, Pawzone & Dcypha - The Raw Essence
[03:05] 07. Hangman - Holy War
[04:44] 08. Ruste Juxx, Milano Constantine, Daddie Notch & Fatty Jones - Something Worth Dying For
[02:42] 09. Blackadon & Rap P - Respect the Real
[03:03] 10. Craig G, Grand Surgeon, DJ Fastcut & Ji Sharp - Global Crisis
[04:56] 11. Tony Gore, St. Laz, Daddie Notch, Skanks The Rap Martyr & Mic Handz - Samurai Killa
[02:52] 12. Tragedy Khadafi, Grand Surgeon & DJ Madhandz - America
[02:58] 13. Chox Mak - Hands Up
[03:08] 14. Influence Getem, Dro Pesci & Illa Ghee - Ear to the Story
[03:12] 15. Planet Asia & Chuck Burns - Departed
[04:00] 16. Ski & Dcypha - Sinful

Download VA - The Blessings Vol. 2 (BigBob Presents) :

Turbobit


Warning! You are not allowed to view this text.