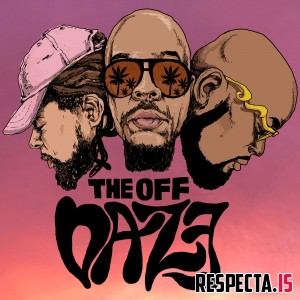 Name: The Off Daze - Couple's Skate
Genre: Rap | Hip-Hop
Year: 2018
Label: The Off Daze
Group Members: Deacon The Villain & Natti (CunninLynguists) & Sheisty Khrist
Featuring: Cecil Gardner, Clay Coffey, Lance Fury, Bianca Jade, Fjer, Alayna, Diamond Ray, Willie Bless, Shaun Jay
Producer: Deacon The Villain
Format: mp3 | 320 kbps
Duration: 00:32:09
Size: 74 Mb
Description: New / Debut Album / CunninLynguists members Deacon The Villain and Natti team up with Sheisty Khrist



"We tapped into musical influences put into us by our parents, aunties, uncles, old cousins, etc.," he told HipHopDX earlier this month. "Psychedelic funk, soul and disco mixed up with some of our favorite early '90s influences like 8Ball and MJG, Tela, Mr. Mike and OutKast. We wanted to make something retro that you could roller skate too, while also feeling like it wasn't 1978. Conceptually, we pictured ourselves in an intergalactic roller rink/strip club then just started cranking out songs."



Tracklist:
[02:53] 01. Dizzy
[03:30] 02. Couple's Skate (feat. Cecil Gardner & Clay Coffey)
[03:20] 03. Take Control (feat. Lance Fury & Bianca Jade)
[02:41] 04. Beautiful Danger (feat. Fjer & Alayna)
[03:33] 05. Twisted Love Song
[03:14] 06. Philly (feat. Diamond Ray)
[03:37] 07. Emerald City (feat. Lance Fury)
[02:14] 08. Shoot The Fair One
[03:44] 09. Ascension II
[03:19] 10. Who Are You? (feat. Willie Bless & Shaun Jay)

Download The Off Daze - Couple's Skate :

Turbobit


Warning! You are not allowed to view this text.