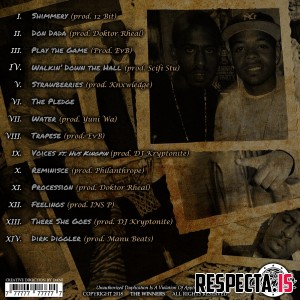 Name: SmooVth (Tha Connection / The Strangerz) - Young SmooVth
Genre: Rap | Hip-Hop
Year: 2019
Label: smvthmuzk
Featuring: Hus Kingpin
Producers: Knxwledge, Sci Fi Stu, Doktor Rheal, EVB, 12-bit, Yuni Wa, DJ Kryptonite, Philanthrope, INS P, Manu Beats
Format: mp3 | 320 kbps
Duration: 00:34:25
Size: 79 Mb
Description: New



SmooVth: "After Giallo and I did the Medellin projects, I felt like it was time to get back to making music all across the board. This Young SmooVth shows that. That range of different sounds and types of beats. That's another reason why I wanted to drop it, to show people what I can really do. Medellin 1 & 2 are conceptual albums. Giallo was in his bag of latin records for a while, so we thought of how can we make use of these. So we turned it into a cartel series; Like some narcos shit, but paralleling it to life coming up in the jungles of NY. He made so many beats with the latin vibe that there was enough to make 2 solid projects. And there's still more in the stash if we decided to do another."

While both Medellin projects have been very successful and critically praised, Young SmooVth is certainly a departure from those highly conceptual albums as it encapsulates a different lifestyle and persona of SmooVth from the earlier chapters in his life. Perhaps combing through these old tracks and releasing this album has been therapeutic for SmooVth, as he looks back on those earlier years with some fondness but also with the wisdom and growth he's attained since. Young SmooVth is a solid album of previously unreleased joints that any fan of SmooVth Calhoun will want to check for



Tracklist:
[01:14] 01. Shimmery
[02:36] 02. Don Dada
[02:16] 03. Play the Game
[02:50] 04. Walkin' down the Hall
[02:14] 05. Strawberries
[02:05] 06. The Pledge
[01:56] 07. Water
[03:15] 08. Trapese
[01:58] 09. Voices feat. Hus Kingpin
[02:36] 10. Reminisce
[02:39] 11. Procession
[01:35] 12. Feelings
[03:58] 13. There She Goes
[03:08] 14. Dirk Diggler

Download SmooVth - Young SmooVth :

Turbobit


Warning! You are not allowed to view this text.