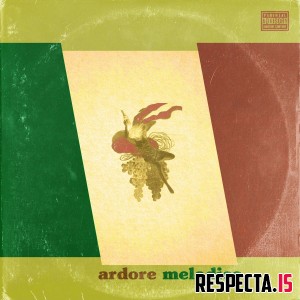 Name: Tone Spliff - Ardore Melodico
Genre: Rap | Hip-Hop
Year: 2019
Label: Mind Write Music / HHV
Featuring: Kool G Rap, Big Shug, Sadat X, Ed OG, Shabaam Sahdeeq, Illa Ghee, Ruste Juxx, Pacewon, C Rayz Walz, Tha God Fahim, Daniel Son, Ren Thomas, Young Lo, Solomon Childs, Realio Sparkzwell, Ill Conscious, Recognize Ali, Supreme Cerebral, Zagnif Nori, Kool Taj Tha Gr8, Localblac, Suezar, Born Talent
Producer: Tone Spliff
Format: mp3 | 320 kbps
Duration: 01:02:16
Size: 142 Mb
Description: New / The Los Angeles based DJ and Producer Tone Spliff is back with a crowd funding project called "Ardore Melodico"

Tracklist:
[01:34] 01. Intro (Grazie)
[02:29] 02. Fe Fi Foe Fum feat. Big Shug
[03:30] 03. Sun Dial feat. Realio Sparkzwell
[02:51] 04. Ill Flows feat. Ill Conscious
[03:54] 05. High Potent feat. Ren Thomas, Supreme Cerebral & Zagnif Nori
[02:46] 06. Recreational Rec feat. Recognize Ali
[04:15] 07. Oxygen feat. C-Rayz Walz
[03:06] 08. Got Wise feat. Sadat X
[03:31] 09. What Glitters Ain't Gold feat. Kool Taj The Gr8
[03:56] 10. Streets feat. LocalBlac
[02:44] 11. Mental Perfection feat. Shabaam Sahdeeq
[03:59] 12. Rhyme With Tha Finest feat. Suezar
[03:00] 13. Real Az It Getz feat. Tha God Fahim & Daniel Son
[03:10] 14. Appreciation feat. Edo G & Born Talent
[03:00] 15. The Craft feat. Pace Won
[04:20] 16. Better Days feat. Solomon Childs
[03:13] 17. No Way Out feat. Illa Ghee
[03:42] 18. Hollywood Life feat. Kool Sphere & Young Lo
[03:08] 19. Get Paid feat. Ruste Juxx

Download Tone Spliff - Ardore Melodico :

Turbobit


Warning! You are not allowed to view this text.