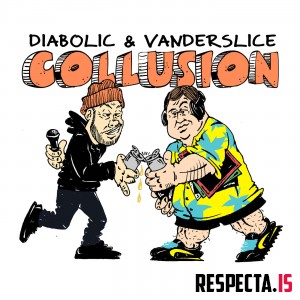 Name: Diabolic & Vanderslice - Collusion
Genre: Rap | Hip-Hop
Year: 2019
Label: Coalmine Records
Featuring: Nems, DJ Revolution, Jade Gritty, Tre Mark Star, Coast, John Jigg$
Producer: Vanderslice
Format: mp3 | 320 kbps
Duration: 00:32:52
Size: 76 Mb
Description: New



Since the early aughts, rapper Diabolic and producer Vanderslice have moved in similar circles, so it was only a matter of time that they would join forces for a collaborative record. With the release of 'Collusion,' that time is now, and it couldn't have arrived at a more perfect moment. The project eschews every trend and flash-in-the-pan style to create a record that's a must-listen for anyone who truly appreciates sharp lyricism and neck snapping production.

"We're two artists with 18 years of friendship, colluding to form a cohesive monster," Diabolic says of working with Vanderslice. "The chemistry is automatic," he adds. "At first, we tested the waters to see if the chemistry was there, and if we could actually make a cohesive record, that we were both passionate about, and we did," echoes Slice.

It's apparent that 'Collusion' is an absolute force when you hear opening track "Think of That," a blistering banger featuring shots at his rivals, over Slice's hypnotic production. And the remainder of the album hits just as hard, with tracks like the chest-thumping "Normalize," the Nems featured heater, "See the Light," the DJ Revolution-assisted "Simon Phoenix," and the B-Side opener, "The Other Side," which Vanderslice claims to be one of his toughest beats in years.

In addition to battle-ready bars and neck-breaking production, the lyrics and album title of course reference the nation's current political climate. But the thing is, that wasn't intentional for either collaborator. "The 'political' topics I touch on are just hints of what's on my mind at the time" Diabolic explains. Adding to that, Vanderslice states: "You let the artist write and record whatever they want. It's my job to trim the fat and present it in it's absolute best light." With the fat trimmed and everything in place, we're left with one of the most noteworthy rapper-producer collaborations of the year



Tracklist:
[00:32] 01. Collusion (Intro)
[03:44] 02. Think of That
[03:11] 03. Jitterbug feat. Jade Gritty
[03:10] 04. Normalize
[03:49] 05. See the Light feat. Nems
[04:36] 06. Who We Are feat. Tre Mark Star, Coast & John Jigg$
[02:44] 07. Other Side
[03:09] 08. Once Again
[03:29] 09. Simon Phoenix feat. DJ Revolution
[02:53] 10. Last Day feat. Coast
[01:30] 11. Collusion (Outro)

Download Diabolic & Vanderslice - Collusion :

Turbobit


Warning! You are not allowed to view this text.