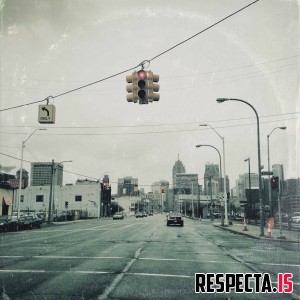 Name: Apollo Brown - Sincerely, Detroit
Genre: Rap | Hip-Hop
Year: 2019
Label: Mello Music Group
Featuring: 87, Alexis Allon, A-Minus, Aztek the Barfly, Big Tone, Black Milk, Boldy James, Boog Brown, Bronze Nazareth, Chavis Chandler, Chris Orrick, Clear Soul Forces, Crown Nation, Dez Andres, DJ AMF, DJ Los, Dopehead, Elzhi, Fat Ray, Fatt Father, Finale, Guilty Simpson, Illa J, Journalist 103, Ketchphraze, Kid Vishis, Kuniva, Leif Erikson, Magestik Legend, Marv Won, Miz Korona, Mélanie Rutherford, Moe Dirdee, Nametag Alexander, Nick Speed, Nolan The Ninja, One Be Lo, Paradime, Phat Kat, Quest MCODY, Ro Spit, Royce da 5'9'', Seven the General, Slum Village, Supa Emcee, T. Calmese, Trick Trick, Ty Farris, Valid & V-Stylez
Producer: Apollo Brown
Format: mp3 | 320 kbps
Duration: 01:19:18
Size: 182 Mb
Description: New



"There are cities that get by on their good looks, offer climate and scenery, views of mountains or oceans, rockbound, or with palm trees. And then there are blue collar cities like Detroit, that have to work for a living. Cities that rely on the toughness and resiliency of their people. Cities that will not quit. Detroit has an unmistakable soul; nobody can duplicate what we give to the world." - Sincerely, Detroit

Detroit has an indelible legacy in hip-hop. From artists like J Dilla to Black Milk, from Denaun Porter to Apollo Brown, Detroit's music has a sound unlike any other. When Apollo Brown set out to create the tribute to his home, he knew he needed to do the city justice.

Featuring over fifty Detroit artists, Apollo Brown's new double disc album, "Sincerely, Detroit," is a love letter to the culture. From different eras and different walks of life, veterans and newcomers alike lend their styles and deliveries to the twenty-one track album. Featuring artists like Royce Da 5'9", Black Milk, Trick Trick, Elzhi, Slum Village and many, many more, "Sincerely, Detroit" is a nearly comprehensive look at the styles and flavors of Detroit.

While the world watches Detroit for influence, Apollo is back to remind people that Detroit sets a standard for others to follow and is a creative haven for Hip-hop



Tracklist:
[01:15] 01. Fate
[03:23] 02. God Help Me feat. Black Milk, Ketchphraze & DJ Los
[03:17] 03. Commas & Apostrophes feat. Crown Nation
[04:06] 04. Longevity feat. Trick Trick, Marv Won, Moe Dirdee & Dez Andres
[03:15] 05. Thoughts In Mind feat. Chris Orrick & Magestik Legend
[04:37] 06. Stopwatch feat. Elzhi, T. Calmese, Quest MCODY & Melanie Rutherford
[03:24] 07. Never feat. Paradime, Miz Korona & DJ AMF
[03:48] 08. Lettin' Go feat. Finale, Illa J & Leaf Erikson
[04:28] 09. Dominance feat. Aztek The Barfly, Kid Vishis, Vstylez & DJ Los
[03:34] 10. All Day feat. Slum Village
[04:30] 11. Oh Lord feat. Fatt Father, Journalist 103 & Valid
[04:43] 12. Deception & Woes feat. Clear Soul Forces
[03:23] 13. Over Do It feat. Bronze Nazareth & Boldy James
[03:50] 14. In The Water feat. Boog Brown & Chavis Chandler
[04:33] 15. 365 feat. Ro Spit, Nametag & Ty Farris
[03:24] 16. The Backbone feat. Guilty Simpson, Fat Ray & Melanie Rutherford
[04:37] 17. Jacksons feat. Seven The General, Nick Speed & Big Tone
[03:24] 18. Can't Lose feat. Phat Kat, Royce Da 5'9" & DJ Los
[03:40] 19. Break The Code feat. Supa Emcee, Kuniva & Alexis Allon
[03:24] 20. Skimmin' feat. Nolan The Ninja & Dopehead
[04:35] 21. What Up feat. 87, One Be Lo & A-Minus

Download Apollo Brown - Sincerely, Detroit :

Turbobit


Warning! You are not allowed to view this text.