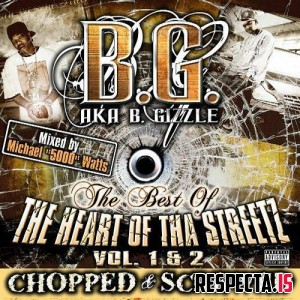 Name: B.G. - The Best Of The Heart Of Tha Streetz Vol. 1 & 2 (Chopped & Screwed)
Genre: Rap
Release Date: November 21, 2006
Label: KOCH, Chopper City Records
Producers: Mr. Collipark, Jevor, Crack Tracks, Daniel Kartel, Mannie Fresh, Mouse, Coree Benton, KIDD, Pretty Todd, Bass Heavy, Sinister
Guests: Homebwoi, The Show, Mannie Fresh, Paul Wall, Yung Redd, 5th Ward Webbie
Format: mp3 | FLAC
Quality:

320 kbps

| Lossless
Size: 150 mb | 337 mb
Duration: 00:56:56
Description: Mixed By Michael "5000" Watts.