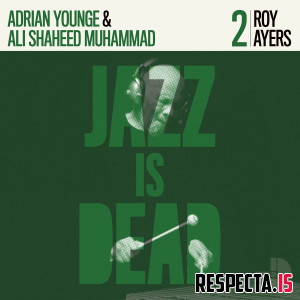 Name: Adrian Younge, Ali Shaheed Muhammad & Roy Ayers - Jazz Is Dead 002
Genre: Jazz | Soul
Year: 2020
Label: Jazz is Dead / Linear Labs
Producers: Adrian Younge & Ali Shaheed Muhammad
Format: mp3 | 320 kbps
Duration: 00:26:05
Size: 60 Mb
Description: New



In February 2018, Roy Ayers performed four sold out shows in Los Angeles as part of the Jazz Is Dead Black History Month series. It wasn't until 2020 that fans of Ayers discovered that in addition to those shows, the legendary vibraphone player had also recorded an entire album of new material with Adrian Younge and Ali Shaheed Muhammad.
Over the course of its eight original compositions, written collaboratively by Younge, Shaheed Muhammad & Ayers and recorded at Younge's Linear Labs in Los Angeles, the resulting album sounds both like an unearthed an unreleased album from Ayers' classic period in the 1970s (which produced the oft-sampled "Red, Black & Green," "We Live In Brooklyn, Baby," "Everybody Loves The Sunshine," and "Running Away), as well as something startling, new and unexpected.
Joining Ayers, Younge & Shaheed Muhammad on this musical journey are drummer Greg Paul, vocalists Loren Oden, Joy Gilliam, Saudia Yasmein, Elgin Clark & Anitra Castleberry, as well as Phil Ranelin & Wendell Harrison of the legendary Spiritual Jazz label Tribe Records.
The 8 tracks on this album testify to the love not only of a legendary musician's legacy, but to the vitality & necessity of this music and these sounds in the present era, a thread that will likely run throughout all of the upcoming releases from Jazz Is Dead Records



Tracklist:
[03:32] 01. Synchronize Vibration
[02:22] 02. Hey Lover
[03:00] 03. Soulful and Unique
[03:40] 04. Shadows of The East
[03:01] 05. Sunflowers
[03:26] 06. Gravity
[03:53] 07. Solace
[03:09] 08. African Sounds

Download Adrian Younge, Ali Shaheed Muhammad & Roy Ayers - Jazz Is Dead 002 :

Turbobit


Warning! You are not allowed to view this text.