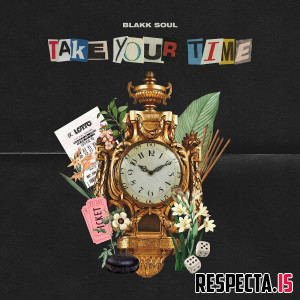 Name: Blakk Soul - Take Your Time
Genre: R&B | Soul
Year: 2020
Label: Mello Music Group
Featuring: Joell Ortiz, Nana, Amaal, Cocoa Sarai
Producers: Wyldfyer, Aayhasis, Kuddie Fresh, Gerson Zaragoza, J. LBS, Qbeats, Blakk Soul, DrewsThatDude, Yusei, Vohn Beatz & Symbolyc One
Format: mp3 | 320 kbps
Duration: 00:37:03
Size: 85 Mb
Description: New / "Take Your Time" is Blakk Soul's MMG debut and is as musically sophisticated and seasoned as any in the genre. The record's sultry melodies are colorful and refreshing, a dripping wet bedroom masterpiece that combines RnB, NeoSoul, and Hiphop rhythms to perfection. Step into the luxurious RnB of Blakk Soul

Tracklist:
[03:36] 01. Take Your Time
[03:29] 02. Act Out feat. Nana
[02:28] 03. Free
[03:41] 04. Help feat. Joell Ortiz
[02:11] 05. Hurt People
[02:57] 06. Tasty
[02:48] 07. Tap Out
[03:47] 08. Wet
[02:48] 09. Rewind feat. Amaal
[02:21] 10. Dangerous
[03:02] 11. Smoke n Chill
[03:51] 12. Lips feat. Cocoa Sarai

Download Blakk Soul - Take Your Time :

Turbobit


Warning! You are not allowed to view this text.