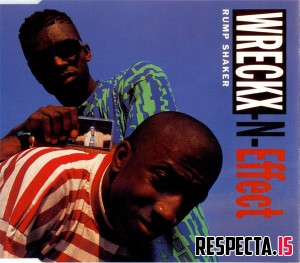 Name: Wreckx-N-Effect feat. Teddy Riley - Rump Shaker (Europe CD5)
Genre: Rap
Release Date: August 25, 1992
Label: MCA
Producers: Teddy Riley, Ty Fyffe, Aqil Davidson, Markell Riley, David Wynn
Guests: Teddy Riley
Format: mp3 | FLAC
Quality:

320 kbps

| Lossless
Size: 39 mb | 108 mb
Duration: 00:15:57
Description: "Rump Shaker" is the massive hit song by American hip-hop duo Wreckx-N-Effect. When they were a trio featuring Brandon Mitchell, they were called Wrecks-N-Effect but with a dead member in the roster, he was replaced with the letter "X". "Rump Shaker" was released as the first single from their second album Hard Or Smooth and they became true one-hit wonders. It features production and guest vocals from Teddy Riley, brother of Wreckx member Markell Riley. "Rump Shaker" is built on a saxophone sample from the 1972 song "Darkest Light" by Lafayette Afro Rock Band and a drum sample from "Midnight Theme" by Manzel. Teddy Riley's verse is notable for being written by his young protégé Pharrell Williams, later to achieve fame as a member of The Neptunes and a solo artist.