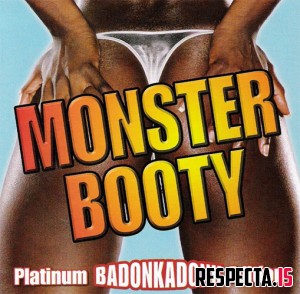 Name: VA - Monster Booty (Platinum Badonkadonk Edition)
Genre: Rap, R&B, Miami Bass
Release Date: 2007
Featuring: Sir Mix-A-Lot , Wreckx-N-Effect, Tag Team, Dulce, Mystikal, 69 Boyz, 2 Live Crew, Digital Underground, Khia, Salt-N-Pepa, Sisqo, Freak Nasty, Hammer, Adina Howard, Tone Loc, Blackstreet, 2 In A Room, E.U., Mad Cobra, A Tribe Called Quest, Patra, Kevin Lyttle, Shaggy, Bell Biv DeVoe, Naughty By Nature, Trina, Trick Daddy, Kyper, Silk, Candyman, K7, Luke, Quad City DJ's
Format: mp3
Quality:

320 kbps


Size: 328 mb
Duration: 02:13:32
Description: This is a collection of songs referring to the female rear-end, created with songs from the rap, hip-hop, R&B, and dance genres of the 1990's. If you like to wiggle it, jiggle it, finger it, or just admire from afar, this is for you. While the cover and songs are sexual in tone, all of the songs are "radio friendly"/clean mixes.