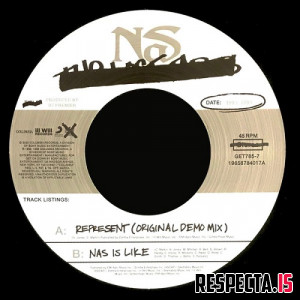 Name: Nas - Represent (Original Demo Mix) (Vinyl)
Genre: Rap | Hip-Hop
Year: 2023
Label: Columbia Records / Get On Down
Producer: DJ Premier
Format: mp3 | 320 kbps
Duration: 00:07:46
Size: 18 Mb
Description: New / Limited Edition Vinyl / The original demo mix for "Represent" has never been made commercially available in any format. DJ Premier tells the story behind it on his YouTube series So Wussup? This limited edition 45 has "Nas Is Like" (Clean -No Cocaine) on the B-side which was on the original 12-inch from his third album I Am...